WHY
PINK
IS THE NEW
BLUE?
Monday is the hardest day of the week for many of us. You've just finished a nice weekend and the work week is already upon you. Do you sometimes suffer from the Monday Blues? Pink Ribbon would like to change that! Our mission is to turn the saddest day of the week into a day of hope, support and awareness about breast cancer. No Monday Blues for us, but a hopeful Pink Monday! Will you join us?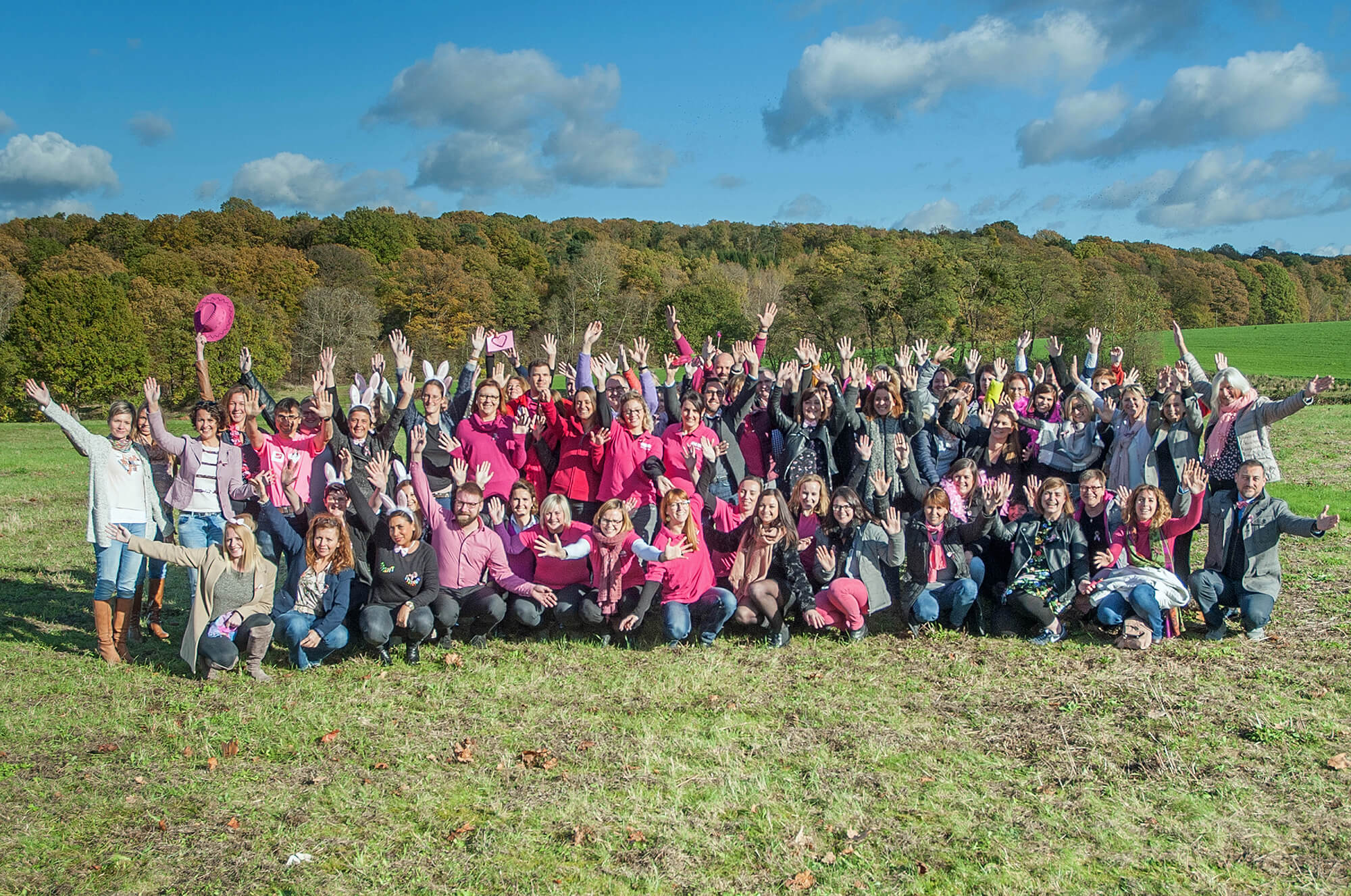 A day that we will dedicate entirely to prevention, early detection of breast cancer and support for those, former breast cancer patients. Currently, 100,000 Belgian women are fighting against the disease.
One out of nine women are affected by breast cancer. This includes your colleagues. It is therefore important to support your affected colleague(s) in this difficult period. He or she will have to endure a tough journey with ups and downs, and support can change the world for them and together we can make the battle bearable. We provide the necessary tips, tricks and tools, which your employees can implement together. This way, we can fight breast cancer together.
Why organise a Pink Monday event?
When someone is diagnosed with breast cancer, it is a heavy burden to carry. For a moment, the world stops turning and you become anxious while knowing that nothing will ever be the same again. By turning the most depressing day into a day of hope, we want to let all fellow combatants know that they are not alone, because you never fight breast cancer alone!
By turning Blue Monday into Pink Monday, you show affected colleagues you support them. Not only that, it's also a day to inform all employees and raise awareness about the disease that affects one out of nine women in our country every year. Focusing on sufficient exercise during office hours, putting up posters about the warning signs of breast cancer and simply showing that you are willing to listen, we want to ensure that fewer women (and men) are affected by the disease.


Ready to turn Blue Monday into Pink Monday at your company? Great!
Register your company, pay a one-time fee of €495 (including VAT) to gain access to the platform and toolkit. Then create your company page and personalize it with photos and updates about what you all do. This way everyone stays informed about each other's initiatives.


All set up and ready to go?
After registration, you'll get access to our online toolkit. This handy folder contains a lot of tips, tricks and tools for you to turn Blue Monday into Pink Monday. You can use it to communicate about your initiative, both internally and to your wider network. We will also provide you with a lot of inspiration to organise your Pink Monday event.


Now you've got access to all the tools. It's time to start planning your Pink Monday.
Involve your employees and get to work together. This way, you can turn 'Pink is the new Blue' into a real success!


Pink Breakfast
Breakfast is the most important meal of the day. What better way than to experience this with your colleagues?
Organise a pink, healthy breakfast basket or sit down together at the meeting table for an extensive buffet. Whatever you prefer, it is a fun way to kick off your Pink Monday.


A touch of Pink
Make your Pink Monday visible by asking your colleagues to wear a pink garment or accessory. It is a simple but warm gesture of support for colleagues who are fighting breast cancer. Some examples to get you started are the Pink Ribbon ribbon, the Pink Ribbon bracelet and mouth masks. Don't forget to take a photo in your gorgeous pink outfits and share it on social media with #PinkMonday😊


Pink Coffee Break
The coffee break is a ritual that occurs in almost every company. A small break and perfect opportunity to catch up with your colleagues. Why not organise a Pink Coffee Break?
Small moments and gestures like these can have great results. You can offer support and listen to a colleague (with breast cancer) who is going through a difficult time.