This year, we celebrate Pink Ribbon's 15th anniversary! As our Pink Ribbon team is very proud to achieve this, we wanted to make sure to give a special touch to this edition. That's why this time, we did not choose a Belgian celebrity to design our ribbon, but we asked (former) breast cancer patients to draw their own version. That way, they could share their own stories on how they experienced their diagnosis and treatment. What became clear from those stories is that every single patient follows their own, unique journey. For that reason it became extremely hard for us to choose one specific design. But eventually we managed to select three designs as an inspiration for our new ribbon of 2022!
But because of the fact that the other stories also touched us so deeply, we did not want to withold them from you. Therefore, you can find those courageous testimonies along with their accompanying ribbon on this page.
Which story moves you the most? Show your support by sponsoring that ribbon.
Top 10 Ribbons
1
2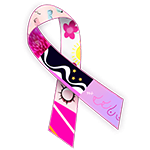 3
4
5
6
7
8
9
10